Finally, my course was plotted out. God gave direction and provided the opportunities. For two months, I looked forward to going home to a new life. A fantastic job with an unbelievable salary, a revamped schedule, a new car, less school, new people, amazing ministry opportunities, travel…life was looking up and I danced across clouds of elated expectation. God was good and faithful; He did exceedingly, abundantly above what I thought or imagined possible.

I got home from Texas and plunged ahead at full throttle…and promptly came to a grinding halt. Just when I felt fueled by purpose and fresh ambition, God changed everything. Suddenly, there was no job, no salary, no car, every ministry opportunity was removed. I sat at a table with my parents discussing these unavoidable changes, feeling limp and utterly heartsick…all the plans…all the excitement simply gone. I wanted to tell God, "That's it Lord. I'm going to throw in the towel. I was on Your course and You just wrecked Your own plan!" Why did He allow me to embrace new dreams for two months and then disappoint me? As I looked at the shambles of my dreams, I had to ask a big question; was God still good and faithful? Was He still doing exceedingly, abundantly above what I thought or imagined?

When I posed my questions to God, I wasn't expecting a different question in retaliation. "You say you want My will for your life…what if My plan all along was to change plans? Did you want to plan with Me? Or for Me?" Then I knew. Trusting was all I could do; He only gives good gifts to His children.

Through an unexpected turn of events, four days later I was boating in Ten Thousand Islands, Florida—a good gift from God that came with a poignant reminder of my most recent lesson.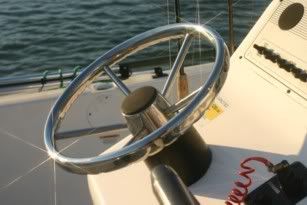 Winding our way through channels toward Chokoloskee Bay, we sped toward the marina just ahead of dusk and the low tide. I looked out over the water to the right and saw a tiny fishing boat run aground on a mudflat. We didn't really have time…our bigger boat, if we stopped now, was bound to get stuck too.
"I think they need help," I pointed toward the little boat.
My uncle turned the Sea Fox and sped back.
"Can we help ya'll?"
"No, thanks," the reply came back across the water.
We were just about to head on when we heard a second voice…
"YES! Yes! We need help! He doesn't like to ask for it, but we do!"
Leaving our own boat in the deeper channel, my uncle and father waded out to the little boat and helped the couple haul it off the flat.
"They never would have budged it alone. He was too drunk to stand up, much less manhandle a boat. Worse, she says it's their 15th anniversary." We watched the small boat head away from us and hoped, for the wife's sake, that they would make it back alright. By now, it was questionable whether we could beat the tide, but my uncle got us back safely.
I got to thinking about the little boat and the couple and wondering…is that how I treat God? Do I insist on my own course and run aground because I refuse to turn? When I am grounded high and dry, do I insist on trying to manhandle the "boat" on my own? Do I refuse His kind offers of help? Am I too muddled and distracted and weak to know what is best for myself and those affected by my choices? The answer to each question, though I don't like to admit it, is "yes." Right then, right there, riding home through the dusk over the waves, I understood. God was directing me on a course through waters where only He knows the safe channels. Insisting on my own navigation would run me aground. He was offering me His kind and willing help to guide my "boat." I couldn't refuse; I know I would run aground and I am so grateful that He is at the helm.